Most advanced B2B solutions
IBM Sterling Data Exchange
Modern and reliable B2B data exchange solutions built for demanding workloads
B2B solutions built on extensive customer experience
IBM Sterling Data Exchange
Many organizations struggle to keep up with the volume and diversity of new customers and suppliers they do business with. To combat these challenges, IT leaders need to power business workflows using modern technologies that provide secure and always-on data exchange to prevent disruptions and avoid –or quickly react to– breaches.
IBM Sterling Data Exchange is a group of offerings built to improve the exchange of data with customers and suppliers, revolving around managed file transfer (MFT) and B2B integration. IBM Sterling Secure File Transfer is the marketing-lead transfer platform entrusted by 80 of the top 100 global banks. With EDI and API routing, IBM Sterling B2B Integration capabilities are available on hybrid cloud, on-prem, or as a SaaS offering for complete deployment flexibility. These solutions are designed to provide a self-managed, vendor-managed or customer deployment approach that best aligns with your IT skills situation and infrastructure management preferences. Our SaaS capability also includes a value added business network (VAN) with 3M+ pre-existing business connections. These existing connections can greatly shorten onboarding time as you look to add additional customers and suppliers as your business grows.
IBM Sterling Data Exchange is a portfolio of the latest reliable B2B data exchange solutions built for demanding workloads and developed by IBM experts with decades of deep domain expertise.
Primary use cases:
Managed file transfer: includes the ability to share documents and files of any type in a secure, reliable, and timely way.
B2B integration: focuses on workflow orchestration that accompanies the exchange of data, including data transformation into a variety of B2B standards and protocols with validation.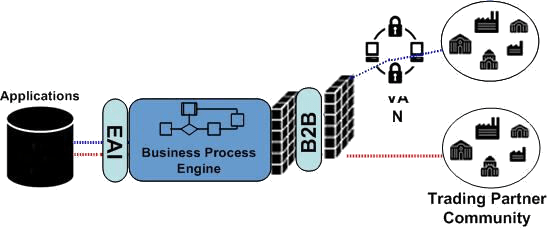 Trading Partner Management
Changes that are driven by new requirements such as new data formats and communication protocols, new business exchanges, and a broad range of partners that vary in size, type, and sophistication, require your organization to be flexible and adapt to changing and varied situations quickly and efficiently.
The Graphical Process Modeler (GPM) depicts predefined system activities by using icons, so you can easily create links between them to design comprehensive process flows, called business process models.