Architectural Overview - Sterling B2B Integrator
Sterling B2B Integrator's architecture is built on a multi-level platform, which enables efficient development of new features. You can respond rapidly to business and technology changes with this design.
The Sterling B2B Integrator platform:
Supports a business process management approach to integration
Provides enterprise scalability, manageability, and security
Delivers non-invasive integration with pre-existing systems
Supports emerging e-business standards frameworks
Enables rapid change management and deployment
Enables multiple interaction styles
Offers a diverse, open-ended functionality set that you can extend in numerous ways
Facilitates interoperability of integrating software
Promotes widespread adoption of key industry standards
Enables data transformation and data management activities that are the cornerstone of your processes
The following figure illustrates Sterling B2B Integrator's architecture.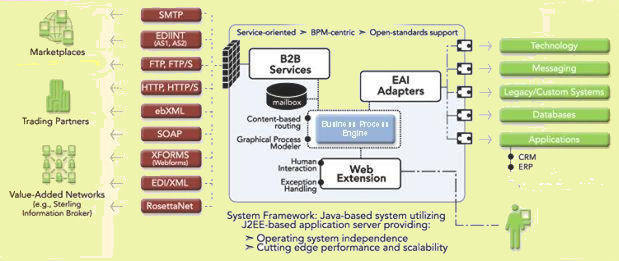 The figure depicts a Sterling B2B Integrator system using many B2B services and EAI adapters. Your configuration will use only the services and adapters that are required for integration activities. The figure also shows a mail box component and integrated human interaction points through Web Extensions, which you may or may not decide to employ.
The following steps explain the progress of a sample process moving through this architecture:
A trading partner sends a document such as a purchase order through a B2B transport protocol (SMTP, EDIINT, FTP, or HTTP) to your organization, using the appropriate service.

The arrival of the document triggers the business process you have configured for the document, and possibly, for this specific trading partner. The Business Process Engine manages the progression of steps in the business process.

The business process de-envelopes the document to obtain instructional information such as routing directions, in addition to the body content of the document.

Based on the data in the document, the business process progresses to the next step. This might include passing the document (through EAI adapters) into one or more internal applications such as:

A PeopleSoft™ order management system
A Web Extensions application (online form) for human interaction with the data, such as a manager's review and approval prior to routing to the next step
An accounting system for credit verification, and then on to an order management system
A mailbox application to store the data until a scheduled time when the business process progresses to the next activity

The process may end here or it may include additional steps, such as adapter-assisted interaction with one or more enterprise systems, to generate a response document to be returned to the trading partner, again using B2B transport services.
For information about the various components and features and the ways they interact, see the following topics:
For technical information about system design, see 

Sterling B2B Integrator

 Technical Framework

For information about the functions supported by the architecture, see Sterling B2B Integrator's Functional Framework

For information about the Business Process Engine, see Business Process Engine

For details about the core components of Sterling B2B Integrator, including B2B services, EAI adapters, and Web Extensions, see Fundamental Components of Sterling B2B Integrator
Sterling B2B Integrator Technical Framework
Sterling B2B Integrator is written in Java™ and can run in an application server-independent configuration or alongside an application server such as BEA WebLogic™, and JBoss™ products. Sterling B2B Integrator uses Enterprise JavaBeans (EJB) adapters when you communicate with an application server.
Application server independence is a valuable configuration because:
It requires fewer product prerequisites, which may reduce your total costs.
It enables greater flexibility in deployment options.

It works well if you use J2EE application servers that Sterling B2B Integrator does not support, or if you have a policy of not deploying a different application server in any production environment.
There is no difference in the functionality between Sterling B2B Integrator used in an application server-independent configuration and Sterling B2B Integrator used alongside an application server. Integrating with an application server requires the use of an adapter (EJB adapter), which is included with the product.
The following display shows a simplified view of the system architecture: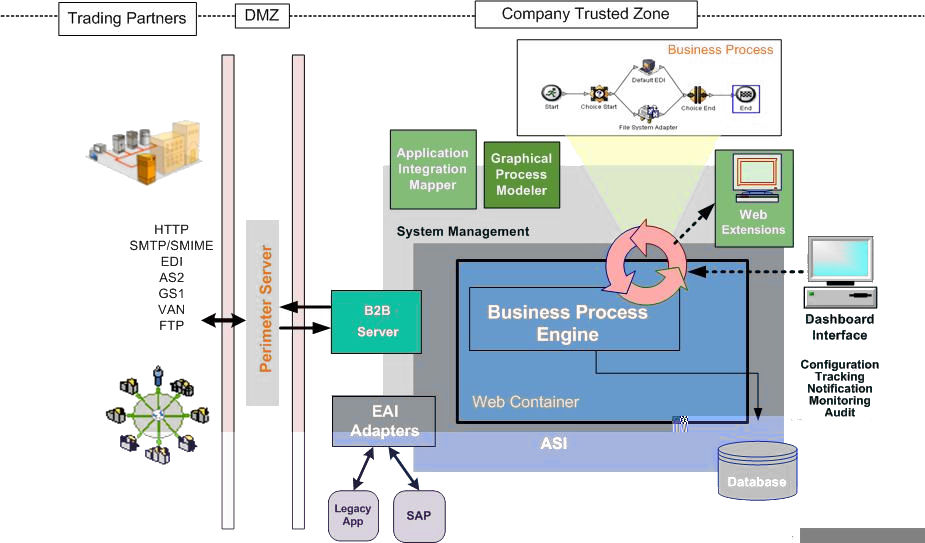 Think of Sterling B2B Integrator as a standards-based business process management system consisting of a toolbox of integration components, on top of a J2EE infrastructure. The integration components include the mapper, Graphical Process Modeler (GPM), B2B services, EAI adapters, and Web Extensions. The J2EE framework enables many key aspects of the Sterling B2B Integrator system, including:
Standards-based interfaces for common middleware functionality
Support for multiple operating systems, including UNIX, Windows NT/2000, Linux, and IBM z/OS® and iSeries®
Load balancing
Fault tolerance
An advanced EJB object-oriented development and deployment environment that facilitates reuse of existing component software, easier change management, and easier application knowledge transfer
Scalable component clustering
Ability to create complex process flows
The Sterling B2B Integrator framework uses a Business Process engine as its core transaction engine to support all data management, translation, transformation, and routing services.
This framework supports:
Advanced parsing, filtering, and content-based routing through the use of XPath parsing and filtering technology
A base set of services that you can use and extend as your requirements evolve and new technologies emerge (custom services can also be developed to support the unique requirements of your organization)
Other Sterling B2B Integrator foundation functions that complement the business engine are:
An administration layer that is a single point of access for configuring, monitoring, and managing the system and its integration activities
Tracking services that trace the flow of information even as a business process runs
Monitoring, which enables you to view business processes as they run
Logging, which records system events such as user interaction, administration, and the execution of business processes
Event notifications that provide alerts in response to events or exceptions, using mechanisms such as e-mail or pagers
Archival storage of business process data
Fundamental Components of Sterling B2B Integrator
The Business Process Engine, Services and Adapters, Graphical Process Modeler, and Mapping and Data Transformation Components are all fundamental components of Sterling B2B Integrator.
The Business Process Engine is the core component that supports the Sterling B2B Integrator business process approach to integration. The Business Process Engine enables hig