Architectural Overview - Sterling B2B Integrator
Sterling B2B Integrator provides many powerful features to help you meet your business needs.
The AS2 Edition is an easy-to-use AS2 EDIINT management solution that you can use with existing EDI or other business document management processes. The AS2 Edition sends and receives documents and interacts with your existing processes.
The Sterling B2B Integrator AS2 Edition combines the strengths of Sterling B2B Integrator with Applicability Statement 2 (AS2) EDIINT technology. AS2 EDIINT is a protocol for securely exchanging data with non-repudiation of receipt over the World Wide Web.
The Sterling B2B Integrator interface features a Dashboard that provides system, process, and trading partner information at a glance through elements that are called portlets that are arranged on the pages.
Much like the Dashboard in a car that displays easy-to-scan information about your speed, fuel level, and temperature, the Dashboard displays information about database usage, cache usage, and log files events. Note for Oracle, the database usage indicator calculates free space used based on Oracle extents.
The following figure displays a Dashboard in Sterling B2B Integrator: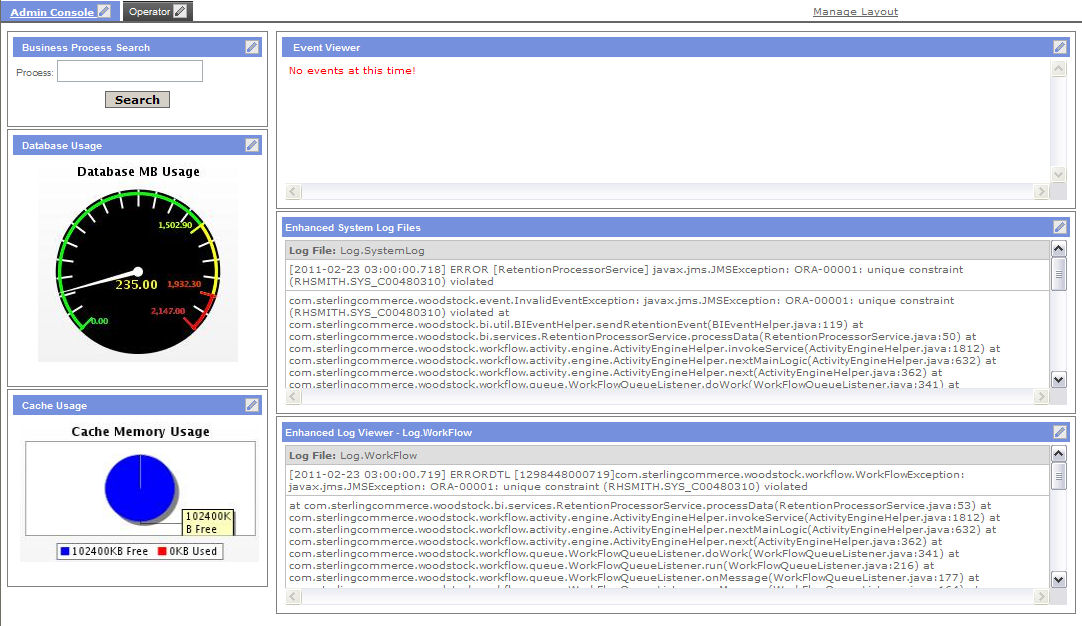 EBICS Banking Server Module
You can transact with partners and users by using the Electronic Banking Internet Communication Standard (EBICS) with the EBICS Banking Server Module.
Its features include creating and managing profiles (bank, partner, and user), associating partners and users with order types and file formats, assigning user permissions, creating and managing certificates, processing of order data, storing and retrieving profile information, certificates, and messages, managing message flows and transaction flows, and transferring files using secure protocols.
Sterling B2B Integrator is a complete EBICS solution involving a bank, a partner, user management, certificate management, secure file transaction, error recovery, and reporting.
IBM® Sterling File Gateway supports EBICS for movement of large and high-volume file transfers, with end-to-end visibility of file movement in a process-oriented and highly-scalable framework that alleviates file transfer challenges, such as protocol and file brokering, automation, and data security.
Using EBICS Client, a partner or a user who is associated with the partner can configure and manage multiple banks, partners, and users. Multiple users can securely transact with multiple banks (EBICS banking servers).
Sterling B2B Integrator, version 5.2.4 and higher includes EBICS Client, a client server application that provides end-to-end EBICS solution for an organization to transact with banks.
EBICS Client provides the following key features:
Managing profiles for users and banks
Managing certificates and keys for users
Submitting orders
Viewing events and reports pertaining to orders
Viewing and monitoring pending tasks
Searching for pending orders at the VEU management store
Tracking and recovering transactions
Importing and exporting of configuration data pertaining to EBICS users
Archiving and purging of transactional data using 

Sterling B2B Integrator