Cloud Integration Service For Businesses -
A Beginners Guide
Businesses are now getting fascinated by automation and technological advancement. And why should they not? If a company wants to grow more prominent after a certain point, it needs to increase efficiency only when the right technology is used. Successful businesses always have their operations in sync and accurately. Cloud integration and hybrid cloud are the facilitators to optimize the processes. Businesses are witnessing betterment in their operations with cloud integration. A forecast made by Research And Markets tells that the Hybrid integration platform market has a 14% of compound annual growth throughout 2018-2023. If you still don't know about cloud integration and where businesses are using them, this article will be a great help.
What Is Cloud Integration
Cloud Integration is combining various cloud-based systems to make a single infrastructure. It can also be known as Hybrid cloud, cloud system integration, cloud data integration. It integrates the systems, applications, and services to create a cohesive infrastructure having all the data in one place. Cloud integration fulfills real-time data exchange, accessibility, and reliability. It can be accessible by various devices working through a network or the internet. , if the company needs to connect all the cloud-driven systems to have a central and streamlined process for data integration, they need cloud integration. When companies look to transform the technological infrastructure, cloud integration is prioritized to improve the operational processes and scale up the business.
The result seems exciting, but it also comes with a few challenges in the setup. Cloud integration has tools like IBM App connect, Microsoft Azure logic apps, and some platforms like Zapier and Jitterbit. These tools and platforms simplify the integration process and build a seamless ecosystem for business processes.
Perks Of Cloud Integration
Cloud integration removes data silos, this is the most beneficial point, and all other benefits revolve around this one. Organizations and businesses benefit from data integration and connecting different systems to have flexibility. Let's look at the other benefits:
Improves efficiency of business processes.
It brings flexibility and scalability.
Better and more reliable system.
Consistent connectivity and visibility.
Linked up and enhanced data.
Agile and scaling IT infrastructure.
Brings down the operation cost of the organization.
Breaks and simplifies complex workflows.
When the cloud integration is implemented correctly, it would undoubtedly positively impact the overall business. However, the implementation ways and strategies need to be paid attention to leverage the benefits. Plan to implement it smoothly will always differ according to the needs and type of organization. Walking along with the successful strategy of one company will not necessarily help. As the requirements are unique, the implementation strategies will also be.
How Cloud-Based Services help Business Processes
The current market has several cloud-based platforms available to ease the operations. Below we will look at how different functions can be handled by the cloud-based platforms that can be then integrated. Even cloud integration platforms have various categories that help organizations integrate the different platforms and have console management. Below are some of the business operations where cloud-based services are commonly used. The image represents that 82% of Indian enterprises already have a well-planned cloud strategy.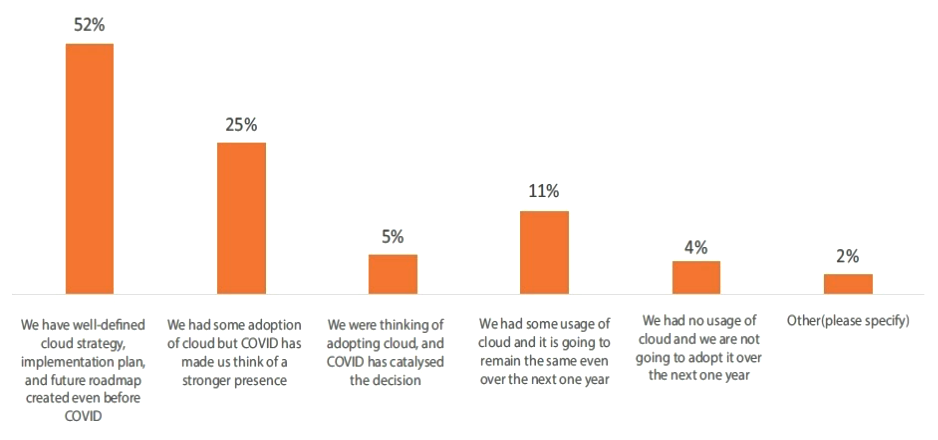 Human Resource Management
Human resources are the most valuable asset for any organization, and lacking in their management can cost a lot. A great option to handle all the HR tasks like onboarding, time, and attendance tracking is Cloud-based HRMS that includes payroll process, expense and reimbursement management, performance tracking, and employee engagement. All the HR processes will come under one roof, which will be easy to manage and lessen the workload of HR managers.
Communication And Project Management
Excellent internal communication is vital to win. Breakage and disconnection in communication and project management will never let the company reach its desired goal. Cloud-based project management tools like Slack and Asana make the process efficient and reduce communication gaps. It will demonstrate when the project started, where it has reached, and who is performing them.
Customer Service Management
Customers' queries and issues need to be addressed to retain them. Cloud-based Customer Relationship Management software can carry on all the processes from pre-sales customer support to post-sale activities. The benefit is that all the client databases can be handled in one place, on different devices, whether it is a new lead or an existing and old client.
Business Resource Management
Resource management for any organization is crucial as it has a massive impact on costs and profits. Lack of resources will affect the company, and resources will also negatively impact. Therefore, cloud-based Enterprise Resource planning software will manage the manufacturing and supply chain schedules. Also, help plan and address the future resource requirements according to the company finances. Cloud ERP can be accessed from anywhere, anytime, enabling quick actions on emergency needs thus, increasing business efficiency.
All the business processes held can be made into a single system with cloud integration to create a transparent and reliable work ecosystem.
Cloud integration is beneficial no matter the type of industry. As businesses grow and witness the convenience of cloud-based services and their integrations, vendors are trying to improve and enhance. The way companies are operating has changed and will even change more in coming times so, we will also experience betterment in cloud services, making it pleasant for all industries.
Organizations are turning to modern cloud solutions to securely store data in a single cloud. Business planning to make more significant moves will need the contemporary solution to simplify, reliable, and efficient operations. I Hope this article has helped you understand cloud integration, its benefits, and the business application.