5 Ways Cloud Computing is Transforming Organization Infrastructure
As the world progresses towards becoming a digital hub, the conventional hardware-based data processing and storage approach is becoming outdated. As people now require extensive functionalities, maximum speed, and unhindered performances, the need to have fast-processing systems and devices is inevitable. Subsequently, leading Mobile app development companies in Chicago and other corporate regions of the USA are opting for robust solutions to power devices and serve the users better. 
This is where cloud computing comes into the picture.
Transforming the entire development, management, and processing approach, cloud computing has enabled businesses to leap forward to build better connections and enable better services. Also, with the advent of cloud computing, the role and infrastructure of the organization are changing. The industrial revolution has always led to the betterment of humanity, and a prime example of this is Uber.
They developed an app that solved a particular problem most spectacularly. Their success is a testament that this approach to solving complex problems with technology is super-effective in business.
In this article, we would talk about how cloud computing is transforming the infrastructure of not only processing devices but also organizations that are shifting to cloud-based computing. Before, moving on let's have a look at how well cloud services are doing in the current market.
Cloud Computing – What Do the Stats Say?
Cloud services are indeed growing massive as they are expected to control over 100 zettabytes of data from all around the world by 2025.
As the majority of businesses are already accessing cloud services and producing millions of data sets regularly, it is safe to say that the world is indeed progressing towards the trend.
On the other hand, the industry growing more significantly to $1,177 billion by 2021, as shown in the image below. Cloud-computing services are already the big thing in the IT industry.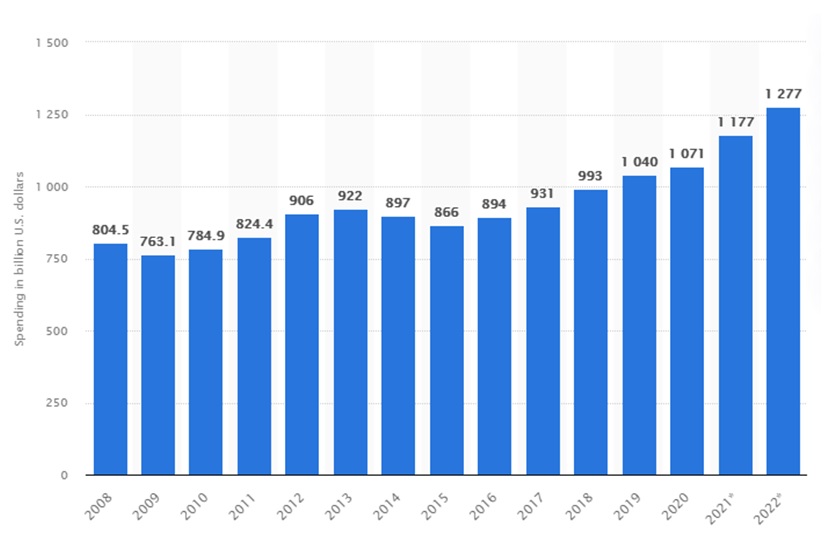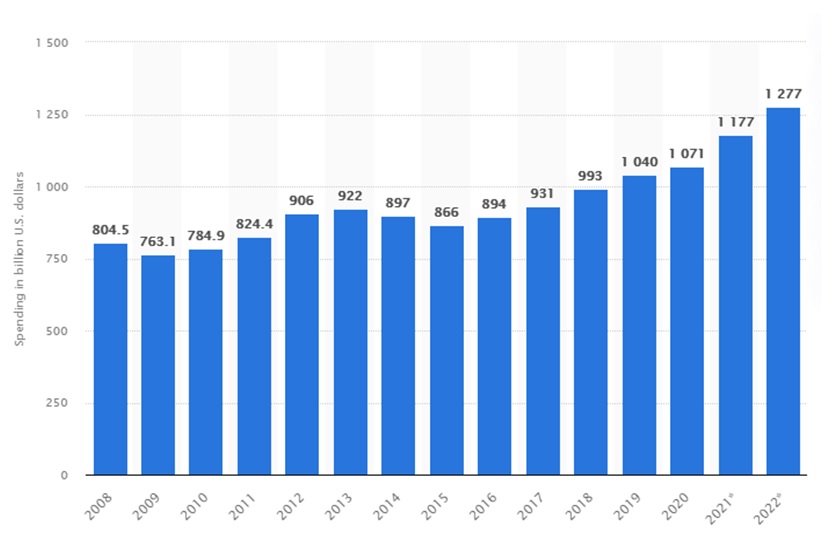 5 Ways Cloud Computing is Transforming Organization Infrastructure
1. Automated Systems and Performance
To start off with the direct impacts, cloud computing has enabled organizations to get rid of the conventional ways of managing and processing and opt for a more automated – fast-paced infrastructure. Now the cloud services that are enabled as the basic infrastructure are responsible for ensuring the smooth running of hardware, keep safety measures in place, provide storage spaces.
Subsequently, the organization running on cloud services requires knowledgeable and experienced personnel to ensure that the services are enabled and provided without any halt or inconvenience. Ultimately, changing the performance and nature of work for employees, as well.
There is no doubt that cloud-enabled services are more cost-effective and economical than traditional storage, management, and processing of data. When an organization plans to shift to cloud computing services, the enablement cost might be much more than you expect it; however, in the long run, it does cut down on the additional cost usually spent on server maintenance, repairs, and updates. 
Ultimately, with all the investments the organizations saved from transforming to cloud services can be utilized to other essential aspects to extend business. This may include marketing strategies, adding functionalities and capabilities, employee benefits, and many more.
3. Work Flexibility and Connectivity
A significant difference in the way organizations run now, with cloud services and previously, with traditional hardware and software machinery, is that now systems are more flexible and enable more excellent connectivity.
How? Well, it's pretty simple.
During the previous year, when the pandemic hit the world, almost everyone shifted to working from home with your office systems and work emails to offer continuous connectivity with your colleagues and managers. This is just an example of how cloud-based services enabled you to stay connected over the internet and work flexibly from home without halting the performance.
The enablement of cloud service has helped professionals to stay connected to their businesses irrespective of their locations. While it enables a convenient work environment, it also helps keep track of performances and routine tasks to ensure credibility and avoid mishaps.
Now, this is one of the growing user's concerns with the ever-increasing dependability on digital means to manage, access, and process data. However, when an organization shifts to cloud-based server services, data security and maintenance is one of the few essential services offered.
This means cloud services enable organizations and businesses to have robust means to ensure secure data storage and processing. Enabling vigorous authentication processes and robust data security measures to ensure only authorized personnel access the data is how cloud services help you ensure data security and authentication.
5. Technology-Friendly Performance
The world has now transformed into a fast-paced, digitally transforming hub where, to survive, adapting to the evolving nature is essential. And, this is where Darwin's theory of evolution fits perfectly.
Coming back to the point, when organizations adapt to the evolving nature of work by incorporating cloud-based services, it helps them to compete against the vigorously changing competitive market. Also, businesses are powered well enough to provide adequate services to their userbase without any performance halt or service unavailability.
That cloud services enable organizations and businesses to sustain their stance and place in the competitive market won't be wrong.
Final Thoughts – Are Cloud Services Really Needed?
Looking at the growing trends in the past decade that have experienced consistent growth and incline towards cloud services, shifting your business to cloud services should be the primary thing to do. While it may help entrepreneurs and businesses to uncap the unexplored aspects of data management, business transactions, and performance expansion, it would assist you in expanding the services, comfort, and reach.
However, in some cases, you might like to have more control over your internal organization dealings. Exercising local control may help you in making ad-hoc changes and customize, audit on service levels if anything goes wrong.